New Edge Mustang -10 Must-Do Mods For A Very Powerful Look
If you make the right mods for your New Edge Mustang, you will get a really amazing look, increased performance, and better sound.
In 1999, the production of the fourth generation of New Edge Mustangs SN95 began and it all continued until 2004. This Mustang had many crispers and sharper body lines compared to the 1994 to 1998 models. Due to its good performance as well as its good looks, this SN95 has got a lot of popularity among Mustang fans.
So if you do the right mods that can be very affordable, because muscle cars have a lot of support in the market you can make big changes to your car. In the continuation of the text, we will present you easy but very essential mods that will give your New Edge Ford Mustang a fantastic look.
1. A Chin Splitter Looks Amazing
The chin splitter on your new edge ford will make it look amazing. All of this reduces the need to lower the car as it all gives it that low-riding look. The chin splitter takes little time to install as it is very easy to mount and all in order to get that absolutely gorgeous look.
The chin splitter at the base of your car will control your airflow, and thus will give you improved aerodynamics.
2. A Grille Delete Kit Looks Real Badass
The factory grille on the new edge ford mustang can be difficult to clean and maintain and there may always be areas left uncleaned. That's why you need to have the grill delete kit for your ford new edge because it eliminates this problem, all while giving your car an aggressive look.
3. Add new headlights – LED bulbs
The front lights have a key influence on the appearance of the car. So if you add new lights to your new edge ford, you leave the impression that you care enough for your pet.
Headlight upgrades give the front end of your Mustang a very aggressive yet powerful look. Our recommendation is to put LED lights on it because they offer light temperatures and better lumens.
4. Lowered Springs Gives A Much Better Look
You can very easily lower your new edge ford by removing a few coils from the springs or get one of the best-lowering springs for Mustang without worrying about the stability of your car. Lowering the suspension reduces the risk of overturning when cornering by improving traction, and also gives your ford mustang new edge a perfect look.
With the improved aerodynamics as well as the increased stability you get by lowering the ride height you get a car that is very easy to drive.
5. Upgrade Тhe Еxhaust System On Your New Edge Mustang To Get A Powerful Sound
To fully feel the power of your Mustang you must have an upgraded exhaust system. Such good systems on the market include Magna, SLPs, Borla, and Bassani depending on your setup and preference.
A good and powerful exhaust system will give the rear of your car a superior look and at the same time give it a powerful sound.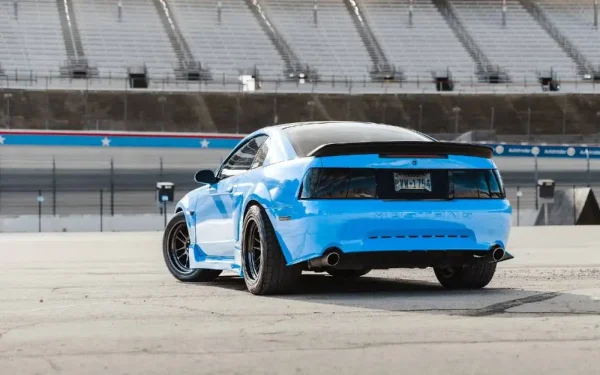 6. Tint The Windows Of Your Mustang
By tinting the windows, you get a fascinating look on your Mustang. On the one hand, the tinted glass windows provide protection from the harmful UV rays of the sun and heat, and on the other hand, they also offer protection from the prying eyes of people.All this allows your new edge ford mustang to be very pleasant to drive, and at the same time to look very cool.
7. Don't Forget To Choose Good Wheels For Your Car
A very important moment in the overall appearance of your car is the wheels. Therefore, the choice of good wheels will significantly affect the appearance of your car. The good contact of the wheel with the surface is very important and useful for driving but also for managing the vehicle itself. Оur recommendation is to choose the best set for your car but also for yourself because you deserve it.
8. Choose А Comfortable Gear Lever
Incorporating this mod is essential in order to make the interior of your vehicle look fantastic. Drivers must have a shift lever that is comfortable and adjustable to their hand in order to create enjoyment while driving their Mustang.In terms of beauty, a good gear lever gives a classic and timeless look to the very interior of your car.
9. Install Comfortable Seats
The New Edge Ford Mustang has been on the market for over twenty years, so its interior looks a bit dated at first glance. You have a really large selection of the most diverse seats, but our recommendation is to install the highest quality and most comfortable seats that suit you best and that complement the interior of your car. Keep in mind that nothing beats the feeling of quality premium leather seats.
10. Intake Plenum Tuning: The Ultimate Performance Boost
To get the most out of your New Edge Mustang you should consider an intake and plenum upgrade. You should know that these two mods work in combination.
If you decide to intake only cold air keep in mind that the plenum can limit the airflow, so we recommend that these mods be done together.
These modifications will improve the efficiency and performance of your New Edge Ford Mustang due to the additional cold air in the engine itself.