1970 Dodge Charger Discover The Current Worth Of This Beauty
The 1970 Dodge Charger Is The Most legendary Muscle Car Ever Made.
Dodge, as we know it today, is one of the last automakers that still holds true to its muscle car heritage. While Ford Mustang and Chevrolet Camaro have transitioned into sports coupes, relying on their past for sales, Dodge remains committed to producing authentic muscle cars. Back in the 1960s, many manufacturers were enthusiastic about the concept of having a powerful and badass muscle car as part of their lineup.
Ford changed the American car industry forever when they introduced the Mustang. The Mustang was a car that captured people's imaginations and created a lot of excitement. It was a big hit, and Ford and its subsidiary, Mercury, were doing really well because of it. Chrysler was also getting ready to jump into the market with their own offering.
They had plans to create a fastback coupe that would fit in between the Mustang and the more luxurious Ford Thunderbird. It was an exciting time for the American car industry, with Ford leading the way with the Mustang and other car manufacturers trying to keep up with innovative and competitive offerings.
During the 1960s and 1970s, the muscle car era was in full swing, and car enthusiasts were treated to an array of fascinating stories and clever marketing campaigns that ignited rivalries among car manufacturers. In 1966, Dodge unveiled the Charger, which was based on the Coronet and designed to compete in the popular segment of personal luxury and specialty cars.
However, it was the later model years of the Dodge Charger, particularly the 1970 version, that truly became iconic and highly coveted in the used car market. Even today, classic Dodge Chargers, especially the 1970 models, are in high demand and can fetch prices ranging from $30,000 to well over six figures. The enduring appeal and value of these vintage Chargers are a testament to their enduring popularity among car enthusiasts and collectors alike.
The second-generation Dodge Charger, introduced in 1968, was the car that really put this mighty muscle car in the spotlight. However, it was the 1970 Charger that truly made a statement with its combination of power, style, and performance. The 1970 Charger became an instant hit, and today it is highly sought after by car enthusiasts and collectors alike.
In fact, we've updated this article with even more information on why the 1970 Charger is so highly regarded and how much it can cost to own one today. With its legendary reputation and enduring appeal, the 1970 Dodge Charger continues to capture the hearts of car aficionados who appreciate its blend of brawn, style, and performance.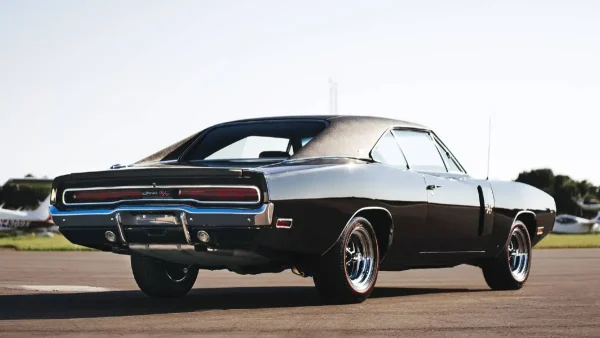 1970 Dodge Charger: A Brief Look At An Iconic Muscle Car
The Dodge Charger was initially introduced as a high-quality midsize vehicle that was built on the foundation of the popular Dodge Coronet.In its first generation, it closely resembled the Coronet, which led to the media sometimes referring to it as an expensive Coronet.
Surprisingly, the Charger was not initially marketed as a performance car, but it later gained a reputation as one of the best muscle cars ever made, thanks to the introduction of Chrysler's powerful 426 cu in street Hemi engine. The Charger came with a hefty price tag of $3,100 and featured upscale elements such as a faux wood-grain steering wheel, bucket seats, premium trim, and vinyl upholstery.
The Charger offered various engine options, including V8s with different displacements such as 318 cu in, 361 cu in, 383 cu in 4-barrel, and the new 426 Hemi. Transmission choices included a four-speed manual, a three-speed automatic, and a column-mounted three-speed manual, which was exclusively available with the 318 cu in engine.
Despite its initial positioning as a premium midsize car, the Dodge Charger went on to become a legendary muscle car known for its performance and distinctive features.
 Dodge Charger: Unveiling Notable Upgrades And Enhancements
When the second generation of the Dodge Charger was introduced in 1968, it brought several unique updates. One of the most distinctive features of the Charger was its full-width hidden headlight grille, which replaced the rotating headlights of the first generation. The vacuum-operated "headlight doors" of the Charger proved to be more cost-effective and unique.
In the 1970 model year, the Charger received visual upgrades, including a wraparound front bumper and electric headlight covers that replaced the vacuum unit. Higher trim levels, such as the R/T, also introduced new rear-facing scoops with the R/T logo. Additionally, in 1970, the "Shaker hood" became an option for Chargers equipped with the 440 cu in and 426 Hemi engines. These upgrades and enhancements added to the visual appeal and performance of the 1970 Dodge Charger, making it a notable year for this iconic muscle car.
One of the notable features of the 1970 Dodge Charger was the introduction of Chrysler's 440 Six Pack as an engine option. While not as powerful as the legendary 426 Hemi, the 440 Six Pack stood out due to its unconventional setup of three two-barrel carburetors, instead of the typical two.
The Six Pack engine was also used in other popular muscle cars like the Dodge Super Bee and the Plymouth Road Runner. In addition to the engine upgrade, the 1970 Charger also saw other notable changes, such as vibrant paint schemes, a Special Edition (SE) trim for select variants, and the introduction of a new pistol grip shifter and a bench seat up front. These updates added to the appeal and performance of the 1970 Charger, making it a standout year for this iconic muscle car.
The Current Value Of A 1970 Dodge Charger: Pricing And Market Trends
1970 Dodge Chargers can vary greatly in price depending on their condition, with some being in poor shape and others fully restored. Prices can range from as low as $15,000 for those in rough condition, up to six-figures for pristine examples. Restored Chargers typically fall within the range of $40,000 to $70,000, depending on factors such as condition and mileage.
However, there are also high-end Chargers that sell for well over $100,000. These tend to have a good history, unaltered title, and matching numbers, with condition and mileage also factoring into the value. Additional features such as a 440 Six Pack engine or unique factory color palettes can further increase the value of a Charger.
In addition, Chargers with special options like the A33 Drag Pak or A34 Super Track Pak, which include performance upgrades like a Dana axle with different final drive ratios, can also command higher prices. Overall, the cost of a 1970 Dodge Charger today can vary greatly depending on its condition, history, and unique features.
Sometimes, there are incredibly rare examples of vintage cars that fetch exceptionally high prices at auctions. One such example is a 1970 Dodge Charger Hemi R/T recently listed by Mecum. This Charger is one of only 10 known Hemi R/T SE 4-speed Chargers ever produced, and it stands out further as the only one in Red with an untouched interior. With only 17,600 miles on the odometer, this Charger is renowned as one of the most well-known Hemi Chargers in existence, having been featured in multiple magazines and even inspiring a limited edition spin-off.
This rare Charger was sold for an impressive $200,000, but the bar was raised even higher when another 1970 Dodge Hemi Charger R/T was sold via Mecum for an astonishing $352,000. What makes this specimen even more remarkable is that it is unrestored and has only 14,000 miles on the odometer. It comes equipped with a 4-Speed transmission and includes the coveted Super Track Pak. These jaw-dropping prices highlight the premium value of exceptionally rare and well-preserved examples of the 1970 Dodge Charger.